A Friday night live Sky game for us this weekend at Huddersfield and then eight days off before a week of fixtures which I think will tell us a great deal as to how serious a promotion contender we are – here's seven questions on Huddersfield dating back to the sixties, I'll post the answers on Saturday.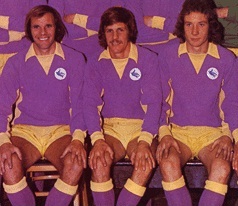 60s. This Lancashire born defender played in blue throughout his career and only came up against us twice in the four years he was with Huddersfield (his first club), winning once and drawing once. When he moved on, it was south to what is, almost exactly, the middle of England (his new location also once beat Paisley, Swansea, Sunderland and Stoke for the title of UK City of Culture). He stayed at his second club for eight years and was first choice in his position for most of that time as he clocked up over two hundred league appearances for them – there were quite a few relegation scraps during that time, but they were all survived. His association with his third club lasted the best part of a decade and he was employed in at least two different roles by them during that time. He stayed in the same city after leaving the game and ran a rock shop there for a while – he was also a partner of Mick Channon at one time, do you know who he is?
70s. Another Lancastrian, he started out as a youngster with his home town club and then had a spell with Bolton before dropping into non League football with the Lilywhites after never making a senior appearance for either team. However, he did enough while with his new team to persuade Huddersfield to pay a small fee to give him another chance in the Football League. He was mostly an understudy during his couple of years at Leeds Road, but one of his twenty odd appearances for them was in a winning cause against City. He did enough at Huddersfield though to persuade an alliterative team to the south to pay many times over the fee he had cost Huddersfield for his services. Again, signed as an understudy, he was, nevertheless. to experience what was probably a career high within a year or of arriving and, later on, there was also a promotion, and a medal, for a season in which he played every league game. However, he then reverted to second choice again and moved in 1979 after just under a hundred league appearances in his six years at the club. His third club, which played at a venue with a healthy tree by the sound of it, represented a step down, but he was first choice for most of his three seasons with them, although, like at all of his clubs, he never made it to a hundred league games for them. He returned to his home county to play for his final league club and had one season with them playing not far from a mile long thoroughfare that is not quite as grand as its former name suggests. When he dropped into non league football, he stayed in Lancashire to play for three clubs, one of which was Accrington Stanley, but who is he?
80s. Huddersfield stalwart not to be confused with Hannibal Lecter or a member of Dare.
90s. Winter Boars seen in Huddersfield?
00s. Nocturnal big cat up front for Huddersfield perhaps (4,6)?
10s. Released by his first, Premier League, club without playing a game for them, this defender returned to sign for a club he had been on loan at and proceeded to win their Player of the Year award twice in his first three seasons with them. The second of these awards coincided with a promotion to the third tier and he handled the step up so well that the bids, one from Southampton, were soon coming in for him. He eventually left a few days after a six figure bid from Scunthorpe had been rejected and went straight into his new team's starting eleven where made his debut against Scunthorpe! His three years at his new club did not end well and there was heartbreak in his final appearance for them. After a dalliance in amber and black for a season, Huddersfield were his next club and he would always play in a kit with blue in it from then on. He played twice for Huddersfield against us, losing one and drawing one, before coming up against us once again for his next team, who could I suppose be confused with bad tempered women, and winning this time. His next club were a fit outfit that, apparently, had a link with veteran actors and then he went close to a border, before finishing up lounging on a sofa.
20s. Which Huddersfield player's manager said the following about him in January;- "He needs to perform better in training and give me an option to see if I use him or not. So that is on him to do that" – hardly surprisingly, the man quoted above is no longer the player concerned's manager!
Answers
60s. Chris Cattlin played for Huddersfield between 1964 and 1968, before signing for Coventry City who were promoted into the First Division at the end of his first season with them. Cattlin signed for Brighton in 1976 and played his last game for them three years later, but did not leave the club and was their manager between 1983 and 1986 – he also co owned a racehorse with Mick Channon at one time.
70s. Goalkeeper Gary Pierce was an apprentice his home town Bury and then Bolton before he signed for Mossley having not played any first team football yet. Huddersfield paid just £2,250 for Pierce's services in 1971 and one of his games for them was a 2-1 home win over City in November 1972. The following year Wolves paid £45,000 for Pierce as a deputy to Phil Parkes, but when Parkes was injured prior to the 1974 League Cup Final against Manchester City, Pierce gave a man of the match performance to help his team to a 2-1 win at Wembley. Pierce was also first choice keeper for Wolves during the 1976/77 season which saw then return to the First Division after having been relegated a year earlier. Pierce then spent three years at Oakwell, Barnsley, before finishing up close to the Golden Mile at Blackpool.
80s. Huddersfield goalkeeper Brian Cox shares his name with the actor who played Hannibal Lecktor (not Lecter) in the 1986 film Manhunter and the physicist who was a keyboard player with the band Dare in the late 80s.
90s. Iwan Roberts.
00s. Leon Knight – Leon is derived from the Greek word for Lion.
10s. Anthony Gerrard joined Walsall after being released by Everton and signed for City at the start of the 09/10 season, making his debut in the first competitive match played in Cardiff City Stadium as Scunthorpe were beaten 4-0. Gerrard's last game for City was in the 2012 League Cup Final against Liverpool at Wembley when his missed penalty (he was one of three who missed from the spot in the shoot out) clinched the win for the scousers. Gerrard spent a year on loan at Hull during his time with City and then moved on to Huddersfield for the start of the 12/13 season with his first appearance for them being when he came on as a sub in a 1-0 opening day defeat at Cardiff. Gerrard signed for Shrewsbury next and was in their side that beat us in a Third Round FA Cup tie in 15/16, he had three spells in all at Oldham, before ending his career with Carlisle and then Chesterfield.
20s. Days before Duane Holmes signed for Huddersfield from Derby on 25 January, his then manager, Wayne Rooney set out what he needed to do to het back in his team. Holmes had earlier criticised a decision to play in a wide midfield position, rather than through the middle and had been dropped by Rooney in December.